A dog's unwavering loyalty is truly unmatched. They have rightfully earned the title of man's best friend as they remain faithfully by our side day and night, in any situation.
Allow me to present a heartfelt tale that exemplifies the true essence of a dog's loyalty.
Daniel Hove, a retired Air Force veteran, continued to serve his community even after leaving the military. He assumed the role of Assistant Fire Chief in Burnsville and became an esteemed figure among firefighters due to his exceptional leadership qualities.
"He was a vital presence in his department, known for his ability to innovate, educate, train, and keep up with the latest firefighting techniques," expressed Heather Nicoletti, Daniel's daughter.
Tragically, Daniel had to retire prematurely when he received a devastating diagnosis of pancreatic cancer. The news of his illness prompted an outpouring of love and support from his family, friends, and the entire community.
"He was diagnosed in October of 2011. Following a Whipple surgery in February of 2012, he embarked on an arduous journey of rounds and rounds of chemotherapy," Heather added, highlighting the challenging path her father had to endure.
Amidst the hardships, there was one constant source of unwavering loyalty—Gunner, Daniel's 11-year-old Labrador.
Even in his senior years, Gunner rarely strayed from Daniel's side. From the initial days of Daniel's illness until the very end, Gunner promised to be there, faithfully supporting his owner through the battle against cancer.
Daniel drew strength from his indomitable will to live and the unwavering support of his loved ones. These factors became the driving force that kept him fighting.
In their younger years, Daniel and Gunner were inseparable companions. "They were the best of friends until the very end. They were hunting partners, going on countless adventures together," reminisced Nicoletti, evoking fond memories of their shared experiences.
As time passed, Gunner began to exhibit signs of illness as well. This development did not come as a surprise, considering his advanced age.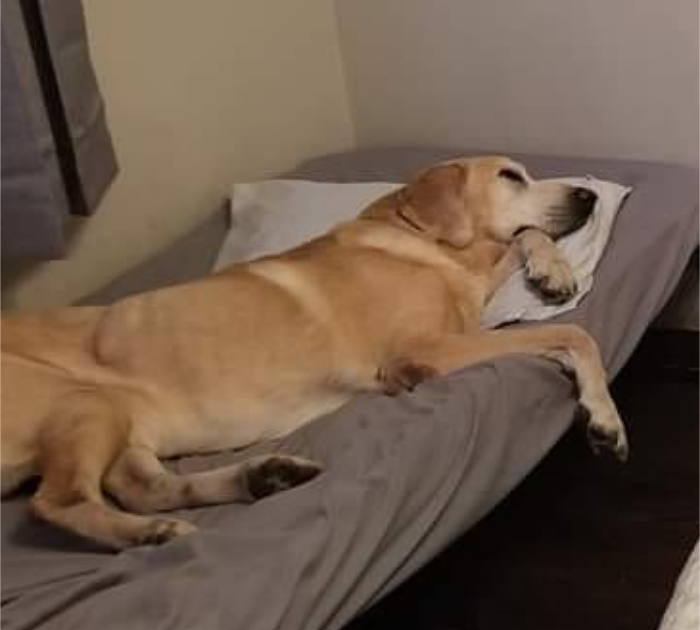 Nicoletti explained, "Whenever my dad became agitated, Gunner mirrored his restlessness. When my dad grew unresponsive, Gunner became unresponsive too. So, when we observed Gunner's deteriorating condition—his diminished movement and overall well-being—we knew the time had come."
With Gunner displaying swollen limbs and a lack of responsiveness, Nicoletti realized that it was time to bid farewell to their ever-faithful furry companion.
"I immediately contacted the veterinary clinic I used to work at. They made arrangements for us and I hurriedly took Gunner there. We peacefully let him go to sleep. Approximately an hour and a half later, my father passed away as well," she narrated, recounting the events of that fateful day.
Until their very last breaths, Daniel and Gunner remained together.
To label Gunner as merely loyal would be an understatement; his devotion transcended ordinary bounds. The bond they shared was a rare gift, offering solace and unwavering support when they needed it most.
"I pondered what would be more traumatic for Gunner," Nicoletti shared. "Taking him away to end his suffering, putting him to sleep, or allowing him to witness my father's passing. Either way, it was going to deeply affect him. We knew they would leave this world together; we just never anticipated it would be mere hours apart."
Strangely, the inability to say a final goodbye turned out to be a blessing for both Gunner and Daniel. Neither had to endure the heart-wrenching pain of watching the other depart.
Ultimately, Nicoletti found solace in knowing that both her father and his loyal companion found peace as they embarked on their eternal rest.
Undeniably, this heartwarming account epitomizes the true meaning of loyalty and friendship.
Be sure to watch the accompanying video below for further insights into this extraordinary tale.
Please take a moment to SHARE this touching story with your loved ones and friends.