There are so many moments and stories told by nature, which, if not documented, are so hard to believe. American photographer from Jupiter, Florida, Laurie Wolf, was lucky enough to have a garden guest, an owl of all creatures, who had made its nest in her garden. One fine morning, she noted some unidentified feathery fluttering in her garden.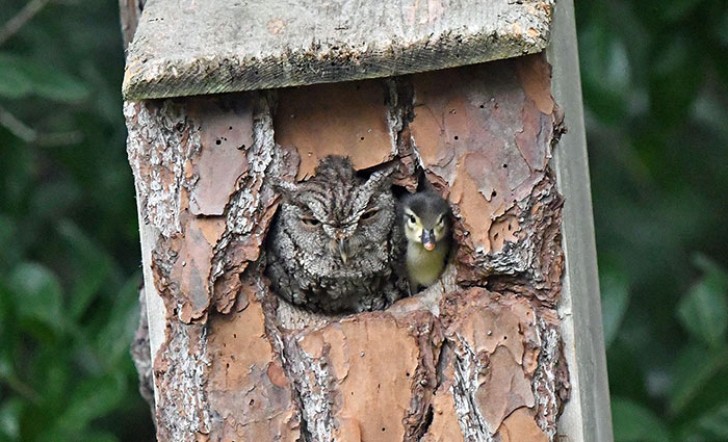 Although at first glance, she thought that the feathery creature was a small owl, on closer inspection, she noted that it was none other than a duckling.
A specimen from Aix Sponsa, the little duckling gazed out of the nest, standing next to the owl. Although an adorable scene, an expert on birds advised Laurie to remove the nest's duckling, as owls sometimes feed on young ducklings. Laurie's advice was to capture the duckling and take it to a shelter, where it would be taken care of. However, later on, on its own accord, the duckling abandoned the net and made its way towards the pond, possibly hearing the mother's call.
It's noted that owls raising a duck is not at all rare. Director at Bird Studies Canada says: "It is not commonly documented, but it does happen, for sure." Every so often, female ducks lay eggs in other nests, in any closely related species, but usually another duck. Although a common occurrence, the frequency it occurs has yet to be established with certainty.